Victory Performance Parts

SCROLL DOWN FOR ORDER INFO, but first, a little about Dennis and OVC/Victory Performance
OVC Industries Inc manufactures Victory Performance Driveline parts. Started in 1991 this unique small company sells wholesale diff yokes, transmission yokes, u-joints, driveshafts & small driveline hardware. Dennis Mothershed started this business after serving 18 years with another driveline company in Minnesota. After being sentenced to Des Moines, Iowa in 1982, he found this town to be to his liking and resides there yet today. Being in the center of the nation is a good place for distribution. OVC / Victory Performance was started in 1991 and serves around 500 wholesale customers nation wide and some export customers overseas. Most customers are into drag racing, circle track racing, off road competition, hot rods, street rods & muscle car restoration supply. OVC serves most large magazine advertisers in US car & truck magazines. We have been the title sponsor of the Victory NSS series since 2010.
The owner Dennis Mothershed has been drag racing since 1965 when he took his very first hot rod 1946 Ford to Minnesota Dragways on Mothers Day. After completing high school and two years of auto mechanics trade school he competed in the 1969 Plymouth Troubleshooting contest. This in turn won him a job at the nearest high performance Chrysler Plymouth dealership in Coon Rapids, Minnesota. This being the golden years of Mopars and drag racing, he was thrilled to run two different cars in stock & super stock at the two local tracks with the dealership support and Chrysler Corp helping out with needed hard parts and advice. This lasted until 1974 when Chrysler dropped everyone's sponsorship including all of the pro drivers. While competing during 1969 until 1974 Dennis was a Cog's car club member which was a part of the GSTA, or Gopher State Timing Association. During this time he was able to get some seat time in the club trainer small block injected sling shot dragster. After leaving the dealership, Dennis manged a high performance engine shop for half a year, then got into the driveshaft business in early 1974. As marriage, home mortgage & children came into his life, drag racing was put on hold. However the thrill of car shows, watching drag racing and old cars never went away.
After OVC was started in the family kitchen table, he was first banished to the basement and then onto two other commercial locations. In 1999 Dennis joined a team of local friends to run a AA/Fuel Altered car. Dennis got a chance to drive the car often while sharing the driving chores with another partner. Also during 1999 Dennis started the restoration of the world's most famous Oldsmobile called the Hurst Hairy Olds. He dropped off of the AA/Fuel Altered team after the summer of 2002 to finished the Hairy Olds. in 2004 the Hairy Olds was given to the Hurst Olds Club of America for the outrageous price of one dollar. From 2004 on Dennis paid attention to his photographic and writing skills with many different club, printed magazines & internet web sites with articles and photos. Victory Performance also became a sponsor of nostalgia fuel altered cars & races, nostalgia funny car events, dragstrip events and signage & hot rod car shows. Today Dennis and his son Matthew run a Nostalgia Super Stock 1962 Max Wedge Plymouth and recently acquired a real 1965 Plymouth A/FX exhibition car. In 2015 Dennis will continue to be the title sponsor of the Victory NSS Series while being mechanic and tuner of the 62 Plymouth Max Wedge car. With the help of Matthew he will photograph all events for DRAGRACINGONLINE.COM, VICTORYNSS.COM & the Victory NSS Facebook page. Dennis will rebuild, drive and tune the new 1965 AFX car in his spare time. Racer, mechanic,fabricator, sponsor, friend, driver, tuner, photographer & writer are just a few of the skills needed in today's performance world. This should prove to be another outstanding year for Dennis & Matthew of OVC / Victory Performance Driveline Products.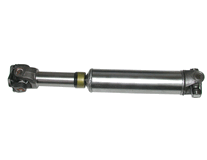 Custom driveshafts built to order, Restoration or all out race! Mild steel, 4130 Moly or 6061 Aluminum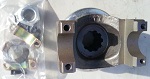 Yokes for Restoration, Street Cars or High Horsepower Race Applications !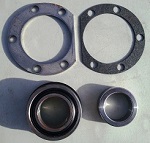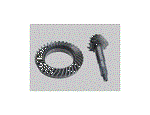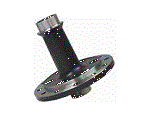 Ring & Pinions,Spools, Bearing Kits and More!
For parts ordering or inquiries contact Chris Schneider
(573)-291-0999 or email at This email address is being protected from spambots. You need JavaScript enabled to view it.